← latest obsession: elbow patches…
worm pie & other spookiness… →
A guest post from: Miss Kait!
October 27, 2011
Hi everyone! I'm Kait, from Miss Kait Online! I'm a gal who loves everything vintage, handmade, fashion, eco-friendly, photography, tea and am also a firm believer that sandwiches always taste better when cut diagonally!
Today I'm here to share with you a little something about my personal style! While I don't dress in a certain "trend" or style (– I wear things that I like, and what I like constantly changes!) I still have a distinct style I think. I'm
not too sure how I would describe it though, so I'll let you be the judge!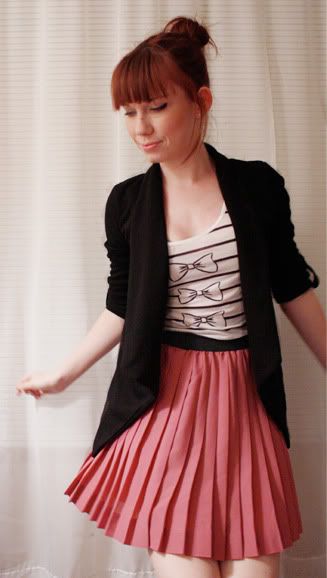 Top & Skirt: H&M – Divided
Black Blazer: Dynamite
One thing that is a distinctive part of my style is that you often won't find me in pants. I hate pants. I don't think they are comfortable at all. Usually the only time you'll catch me in pants is if I'm sick, or doing something that calls for it (like climbing up ladders at work!) When you do they're almost always jeggings.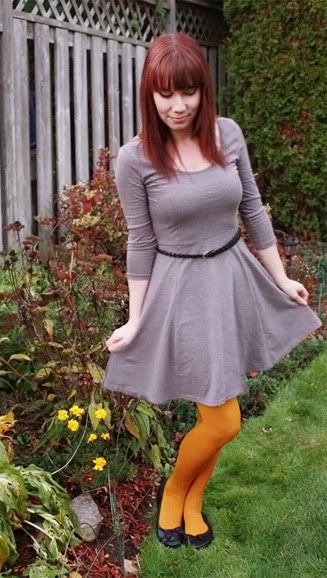 This entire outfit is H&M, except for the shoes, which are American Eagle for Payless.And with that being said you've probably noticed that the majority of my wardrobe is H&M. In my defense, I work there! (Um.. but we're not required to wear our clothes. So I guess that's not much of a defense!)
I love fashion and outfit posts. If you haven't heard of it already, The Pleated Poppy does a weekly series of What I Wore Wednesday and bloggers can share their outfits there. It's one of my favourite things on the blogshpere! I'd love to see anyone's outfit posts if you do them, so feel free to link up in the comments! I love how everyone, no matter how hard they deny it, has a little bit of a personal style! A big thank you to Lisa for having me on her blog!
---
Thanks Kait, those are both so cute! Make sure you stop her
blog
for more awesomeness! This entry was posted in
outfits
and tagged
guest post
.
← latest obsession: elbow patches…
worm pie & other spookiness… →